A completely updated "Hard-Core OSINT – Day I" seminar will be taking place in Michigan on 13 September 2019. If you are in Michigan or nearby and have not already been notified of this event by postcard or email, information follows…On Friday, 13 September 2019, MASIP (the Michigan Association of Security and Investigative Professionals) will be hosting a full-day (8.0 CEs) intensive training seminar, "Hard-Core Computer-Aided Investigation, Open Source Intelligence (OSINT) and Digital Officer Safety – Day I".
This event is co-sponsored by the Michigan Chapter of the Fraternal Order of Investigators and hosted by Madonna University's Criminal Justice Department.Detailed information and the event signup forms can be found at: http://www.fraternalinvestigators.org/madonna0919.pdf .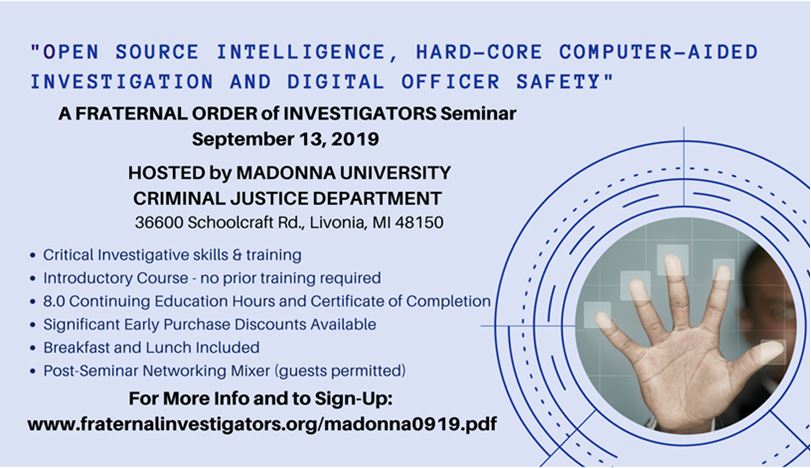 OSINT "hacking" is a critical – in fact, irreplaceable – skill for investigative professionals. The OSINT landscape changes at a rapid rate and constant training and updating of skills is a must.
The Fraternal Order of Investigators, in partnership with state and national associations, regularly makes such training available to investigative professionals throughout the USA and Canada.Do not mistake this seminar for the sort of "you-need-to-earn-CEs" fluff taught by people who have never worked as Investigators or in the field. This seminar has been developed by investigative professionals for investigative professionals and consists of hand-on "weapons familiarization" to address real-word situations. If you are an Investigator or Law Enforcement Officer, or undercover operative, or if you work in any type of physical or cyber/IT security function or routinely conduct risk management or due-diligence activities, this is a "must attend" event.
Attendees will be introduced to sources and methods for gathering and using personal / sensitive information and subject biographical data; will learn how to obtain and use Open Source Intelligence (OSINT); and will receive hands-on instruction in cyber-investigative methods. This seminar will discuss and demonstrate methods of merging proprietary online databases with public records, and OSINT (Open Source Intelligence) sources, to support "skip trace", background, character, due diligence, criminal, civil and asset-location investigations, and will include a review of proper case intake, to facilitate effective OSINT activity. This seminar will also cover significant Personal Security (PERSEC) topics and attendees will receive instruction in digital counter-surveillance, including "Digital Officer Safety" and "Social Networking Best Practices" components. The purpose of these counter-intelligence (CI) segments is to provide awareness and digital self-defense training to investigative and other professionals who might be targeted online. "Digital Officer Safety" is a major concern, as radicals and criminals routinely use the Internet, Open Source Intelligence (OSINT) and public records to target law enforcement and other investigative professionals. "Doxing", "Dorking", "crowd-sourced investigation", facial recognition, public "people finder" databases, "Google-Fu" and other open source tools and methods are now routinely used by persons with malicious or criminal intent to obtain investigative and law enforcement professionals' home addresses, spouses' and children's names, photos, license plates and countless other types of sensitive information. No prior training or experience is necessary to attend.
Upon completion of this course, attendees can expect to have achieved an improved understanding of how to use proprietary and Open Source data to support an investigative, auditing, compliance or security function and how to protect themselves, their organization and their activities and maintain OPSEC (Operations Security). This seminar is not open to the general public. Law Enforcement, licensed professionals and members of allied professions only. For questions regarding eligibility to attend, please contact the event coordinators. IMPORTANT: some "OSINT courses" do NOT provide valid CEs. The eight (8) CE hours, including one (1) ethics hour, earned at this seminar are approved by NASBA and recognized nationwide (including by ASIS, ACFE, etc.).